WHETHER YOU'RE A PATIENT OR A CAREGIVER, AMGEN IS HERE TO HELP
Help from Amgen when starting RIABNI™
If you've been prescribed RIABNI™ and have questions about co-pay, insurance, or options if you do not have insurance, your Amgen Reimbursement Counselor is here to help. That's why we created Amgen Assist 360™—to support you in every way we can, so you can focus on what's most important to you.

Whatever type of insurance you have—even if you have none—your Amgen Reimbursement Counselor can help you understand how RIABNI™ may be covered, and refer you to programs that may be able to help you afford it, such as Amgen FIRST STEP™.
Amgen Reimbursement Counselors can help you understand:
Insurance coverage
Co-pay costs
Deductible costs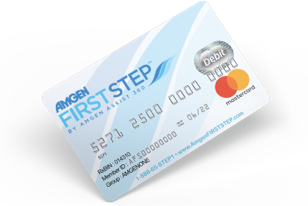 The Amgen FIRST STEP™ Program can help eligible commercially-insured patients cover their out-of-pocket prescription costs, including deductible, co-insurance, and co-payment.*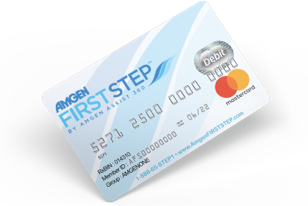 $0 out-of-pocket for first dose or cycle
$5 out-of-pocket for subsequent doses, up to the brand program maximum
No income eligibility requirement
Call 1-888-65-STEP1 (1-888-657-8371) Monday to Friday • 9:00 am to 8:00 pm ET or visit AmgenFIRSTSTEP.com
*

The Amgen FIRST STEP™ Prepaid MasterCard is issued by Comerica Bank pursuant to license by MasterCard International Incorporated. No cash or ATM access. MasterCard is a registered trademark of MasterCard International Incorporated. This card can be used only to cover the co-payment for eligible prescriptions covered under the program at participating merchant locations where Debit MasterCard is accepted.